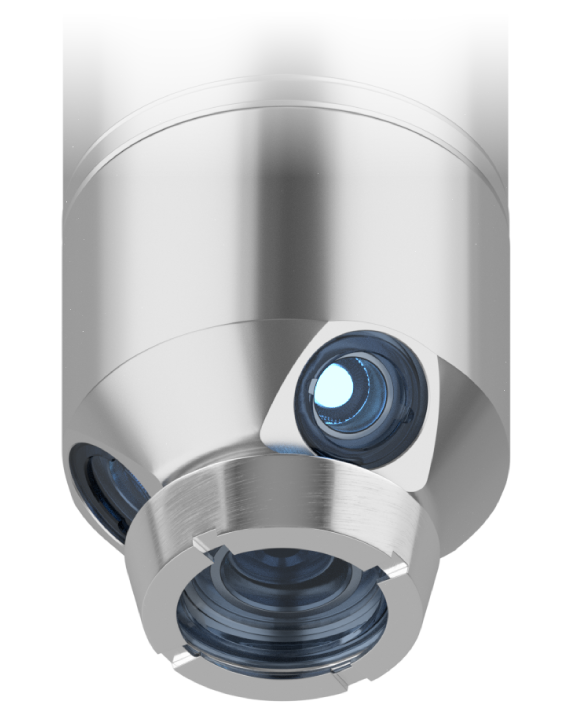 New, high-resolution and temperature-proof era in the downhole visual monitoring of hydrocarbon and geothermal wells
Zerlux' downhole camera technology enables operators to gather earlier not known depth precise and up-to-date, even real-time information regarding the current status of the given wellbore, facilitating detailed and highly visualized borehole investigations and allowing operators to particular focus on their surveys on examined well sections quickly and efficiently.
Zerlux offers a downhole camera family for all kinds of deployment methods (fiber, slickline, wireline, E-line) or even with CT (coiled tubing) units available in both the online (real-time) connected and memory card mode among extreme temperature and pressure conditions, but in every cases the Full HD quality recording is guaranteed.
Applying an Improved and Unique Lens Cleaning Technology Zerlux cameras will be suitable for multiply cleaning of camera lenses in order to remove oil or condensate origin contamination during the run-in-hole process, so currently lone in the market our cameras are applicable to visualize wellbore status even in strongly contaminated oil wells.
Main application areas
Inspection of wellbore hardware including status of wellhead equipment, safety valves, and borehole nipples
Inspection and monitoring of corrosion and erosion
Exact imaging dropped objects and wellbore fishing support
Highly visualized monitoring fluid flows and inflow locations
Scale, salt & hydrate identification
Gas storage well assemblies and downhole Gravel-pack filters inspection
Open hole imaging of formations
Milestones
highest wellbore
temperature171°C
highest wellbore
pressure558 bar
deepest reached
wellbore6158 m
audited quality
management systemISO 9001
successfully
done jobs100+
successful operations
in off-shore circumstances50+
Specification